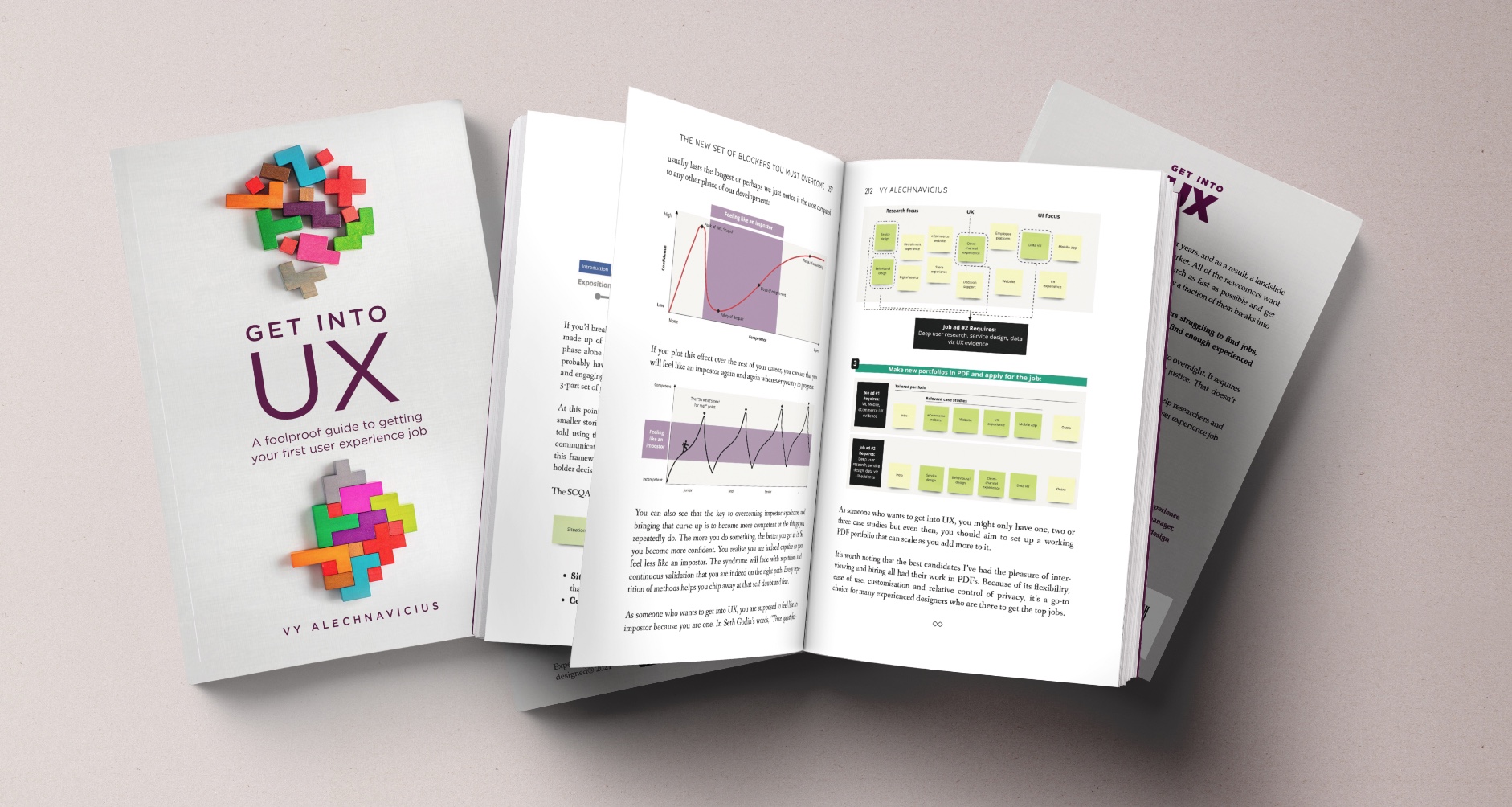 Get Into UX book is a career advice book written to help new and experienced designers get unstuck in their pursuits to get UX jobs.

---
Get your copy today
Get Into UX book is available on the following platforms1:
---
The book to get you into UX
The UX field has been booming for years, and as a result, a landslide of new talent has been flooding the market. All of the newcomers want to learn user experience design or research as fast as possible and get paid professional positions. However, only a fraction of them breaks into the field.
On the one hand, you have young designers struggling to find jobs, and on the other hand, managers who can't find enough experienced talent. Often this is attributed to uninformed gurus, hasty bootcamps and other get-into-UX-quick schemes that overpromise, but never make anyone fully market-ready.
Why do they not work? As a discipline, UX is too complex to graduate into overnight. It requires months and often years of commitment to do it justice.
That doesn't mean you cannot shorten this journey.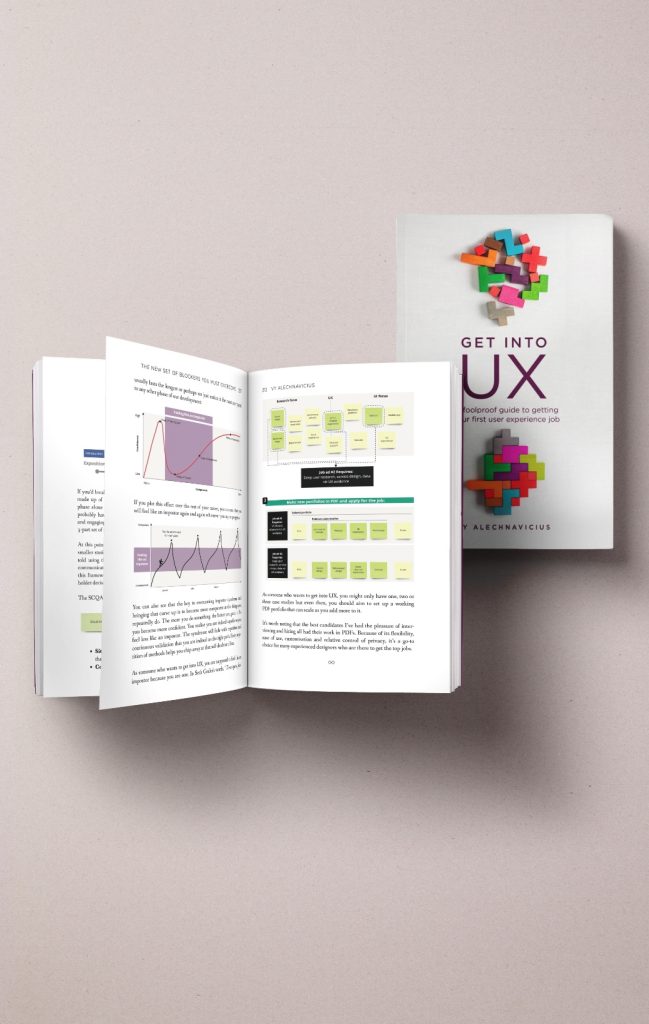 ---
This book is a foolproof guide to help growing UX researchers and designers like you focus on the right things to get the job you want.
---
This book is for your if you want to…
Every chapter is written to give you insights and practical tools that you need to:
Set yourself apart from the majority of entry and junior-level applicants by genuinely understanding what UX is and what it isn't; It's time to distil user experience design into an effective workflow that adds clarity and pulls you out of the crowd of the unsure.
Set up your UX career for long term success; learn the craft that is challenging, rewarding and futureproof. This means buckling up for the long term development but starting now.
Overcome the self-sabotaging actions by focusing on the right things. Have you ever wondered why some UX designers get ahead quickly, and others don't? Hint: it's rarely to do with external factors.
Shorten your journey from beginner to pro by using field-proven strategies and specific tactics. You'll learn how to go from awareness to 'can do' without getting stuck.
Ace your UX portfolio, resumes, and interviews by showcasing your skills in the right way and for the right audiences. We'll unpack the essentials and the small yet critical detail to get your foot in the door.
This book is not…
A single source of truth that will teach you how to do UX from start to finish. There are hundreds of books covering exactly that. This is a career advice book that will help you to refocus on what matters.
Going to make you a professional UX designer overnight.You need to have a growth mindset, a passion for user-centricity and you should understand that this is a journey which will require unrelenting practice.
Going to focus on UI or other technical skills that all make up part of the UX disciplines and process.
---
Get your copy today
Get Into UX book is available on the following platforms1:
---
1 Many other book marketplaces and reading platforms that you might want to check to get your Get Into UX copy: Amazon, Kobo, Google Play Books, Barnes & Noble Nook, eBooks.com, Apple Books, Fable.co, Bookmate, Glose, Scribd, AppSumo, Book Depository, Walmart, Booktopia, Chapters.Indigo.