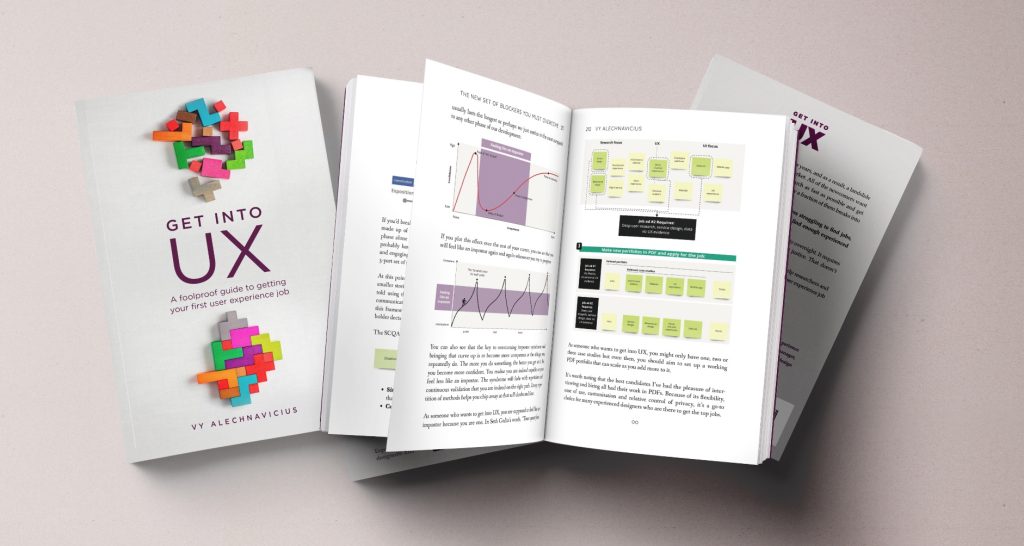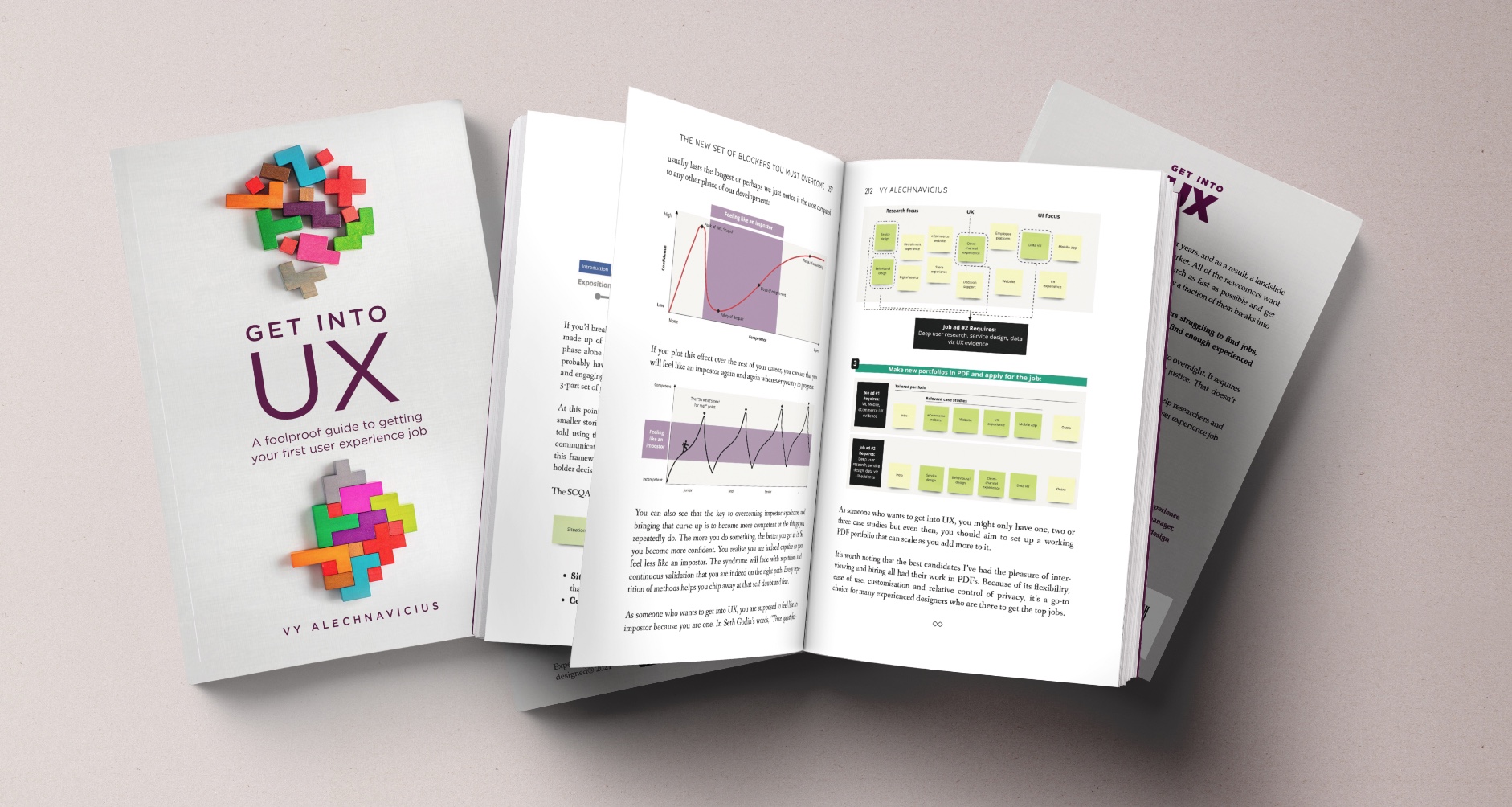 Get Into UX was written to help developing designers get unstuck and land a job in UX design or research.

---
Get your copy today
Get Into UX is available on the following platforms1:
---
The book to get you into UX
As the UX industry continues to boom, a landslide of new talent is flooding the job market. Yet many hiring managers can't find enough experienced talent. Why? Because most newcomers actually aren't market-ready. Fresh out of boot camps, uni courses or other get-into-UX-quick schemes that overpromise, budding designers struggle to show their potential and land their first paid UX job. Can you relate?
I wrote this book to help developing designers like you understand why you're not getting hired, and how to overcome these blockers.
From the start of your job search—including specific portfolio advice and insights from hiring managers—to advice about maintaining career momentum once you land your first job, this book has you covered.
Although written especially for those new to UX design and research, there's career advice here to help designers of all levels.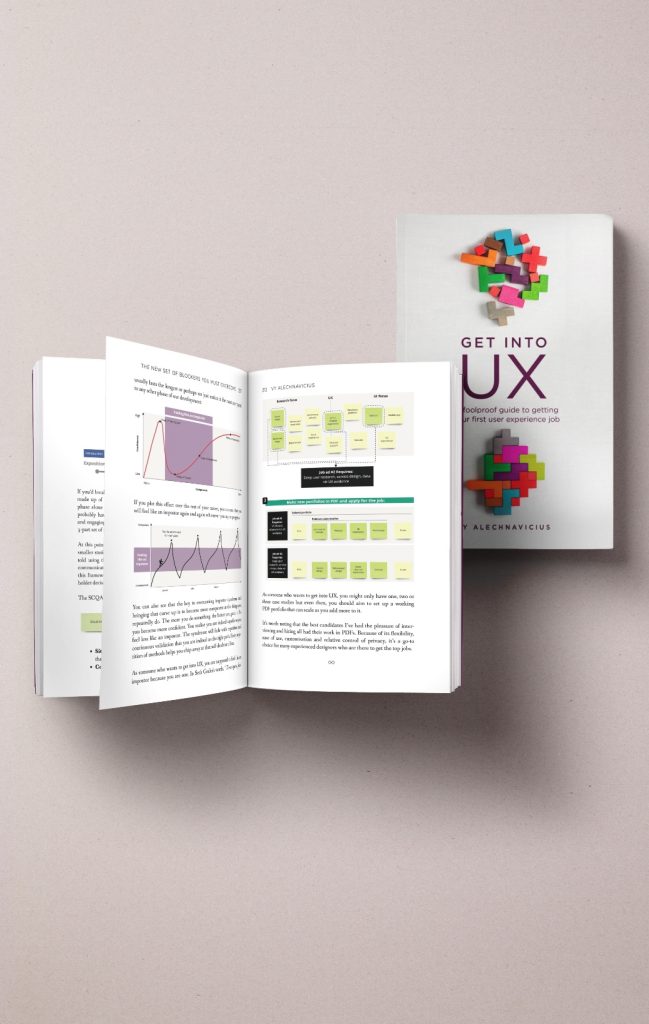 ---
When it comes to job-searching, many new designers obsess over things that are actually outside of their control. This book helps you focus on the right things, for maximum leverage to land the job you want.
---
This book is for you if you want to…
Set yourself apart from the majority of entry and junior-level applicants by showing you genuinely understand what UX is and what it isn't. It's time to frame user experience design in a way that's clear to the people interviewing you, helping you stand out from the crowd of the unsure.
Set up your UX career for long term success. Learn basic principles to future-proof your career and become a better designer. Sure, it's going to take time to build up expertise, but there's ways to shorten the journey.
Overcome self-sabotage by focusing on the right things. Ever wondered why some UX designers get ahead quickly, and others don't? Hint: it's rarely because of external factors.
Shorten your journey from beginner to pro by using field-proven strategies and specific tactics. You'll learn how to go from 'I know of this' to 'I can do this' without getting stuck.
Ace your UX portfolio, resumes, and interviews by showcasing your skills in the right way and for the right audience. We'll unpack the small but critical details to help you get a foot in the door.
This book is not…
A single source of truth that will teach you how to do UX from start to finish. There are hundreds of books covering exactly that. This is a career advice book that will help you understand what you're doing wrong and how to fix it.
Going to make you a professional UX designer overnight.You need to have a growth mindset, a passion for user-centricity and you should understand that this is a journey which will require unrelenting practice.
Going to focus on UI or other technical skills that all make up just one part of what UX actually is.
---
---
1 Other marketplaces and reading platforms where you can get your copy of Get Into UX: Amazon, Kobo, Google Play Books, Barnes & Noble Nook, eBooks.com, Apple Books, Fable.co, Bookmate, Glose, Scribd, AppSumo, Book Depository, Walmart, Booktopia, Chapters.Indigo.